Danish Middle Dist Champs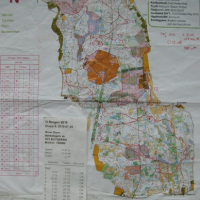 Location: Sukkertoppen (DEN),
I was really unsure about the shape due to no high intensity training for 3 weeks. The plan was to go easy from the start, which I felt I did. Anyway I was fastest to the second control… hmm… Wasn't consequent enough in on the way to 3'rd control and ran too long in the terrain until I hit the road which added up to almost 1 mns. Misjudged how close to the top 5'th control were and went too far down the hill and lost 35 sec. Started to struggle with the pace from here and lost the focus on the navigation.
Lost time on the route to 10'th (a route right from the line was significant faster) stuffed #12 and #17 with more than one minute. So have to be happy with being 4 mns behind, with more than 3½ mns of mistakes and concrete in the legs.