Midgaardsormen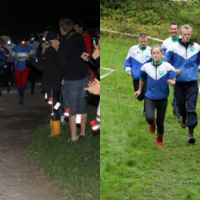 A 9 leg relay the Danish equivalent of Tiomila and Jukola… though only with 38 teams at the start line.
My club Tisvilde looked really good on the paper. We had a late injury but as the same happened for our worst competitor Faaborg it looked to be a good fight for the money. Faaborg lunched the Gold from the start With Mikkel and Tue on the night legs, instead we had the strongest runners in the end. The result was that Faaborg was in the lead with 8-12 mns on the first 6 legs.
A great run on 7'th leg and we were back in action and the game was even. 8'th leg didn't change that and I started 8 sec behind Faaborg on last leg. I had a short split at 1'st and 3'rd control and got a gap. Lucky me the legs felt better than yesterday, without feeling great. I guess it help to get them fired up so the got used to having a hard time.
Managed to give us a 2½ mns win. It's always great to win a relay and it feels good to be able to give something back to the club, as thanks for their support.