Birken – nothing is as bad as it not good for something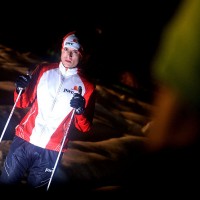 In Norway everyone knows about "Birken" or Birkebeinerrennet a 54k classic style cross-country skiing race from Rena to Lillehammer. Approximately 18 000 skiers participate in the race an fight for the "merke", a prize pin for the top 20% or so in each age class. Rumours are that you are not a good Norwegian skier before you accomplice a merke in Birken.
My first Birken was last year (2013). As a Dane on skies my challenge is primarily the technique and as a runner pooling is also a challenge with thin runners arms!
There is a lot of hype around Birken in the media, and as a journalist at the largest Norwegian newspaper VG, snapped up that a Dane wanted to beat his Norwegian work mates a story was on the way.
http://e24.no/livsstil/birkebeinerrennet-2014/danske-rune-skal-knuse-skigale-nordmenn-i-birken/22777672
To have a goal for the winter training season is important to keep the spirit high, and as XC-skiing is great alternative training, I set myself a goal to be able to go below 3 hours in Birken if the conditions were good.
Unfortunately the XC-skiing conditions in Oslo have been poor this winter, so my skiing training didn't progress as well as planned. Even though there haven't been enough snow to get good skiing conditions near Oslo there has been too much snow to run in the terrain. Hence most of my runs has been on roads and interval sessions has been indoor at Bislett or at a treadmill in the training centre.
A new tactic was applied in the New Year and I had several weekends on XC skies. A PwC XC-weekend with around 50 other PwC mates at Nordseter/Sjusjøen, and a few trips to Kikut/Geilo for getting som hours in the training diary.

As I wasn't born with skies on my feet, another important factor in improving my speed on XC-skies has been "ski-school" sessions. Via PwC mates, Learn to ski and Team centric I got 5 or so skiing lessons with excellent skiers, which I'm sure significantly have improved my technique and speed. To get ready for the Birken challenge I even included to long XC pooling training.
The Race: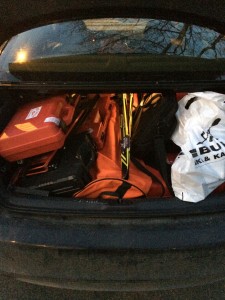 To be as rested as possible and reduce the stress on the morning of the race I joined 8 other PwC mates and rented a house around 500m from the start in Rena. We drove the 3-4 hour drive to Rena Friday afternoon. My increased confidence in skiing also meant that I would prepare the racing skies myself, based on guidance from the experienced Norwegians i shared the house with. It's a 2-4 hour exercise depending on how good you would like the skies to be…. I wanted them as good as it gets…
Race day! After a good beaky and a litter or so of Faxe Kondi and the last few layers of Wax on the skies I walked the 500m to the arena and could feel the tension building up, yes I was ready to race. What a the start looked as perfect conditions for skiing, -2 degrees, sun & blue sky and no wind at all unfortunately wasn't the case in the mountains. At first the start was delayed for 30 minutes, before the race finally was called off at 8 o'clock due to too much wind – what a disappointment!
One the 500m walk back to the House I made a new plan. While 6 of the house mates agreed to go over the mountain anyway (which later turned out to be one of the best trips for the year, with perfect blue skies and around 3k with windy conditions), I jumped into the car and drove back to Oslo. Lucky me – the Orienteering federation had an O-Camp day, I missed the first training but arrived just in time for a O-Sprint at Lamberseter.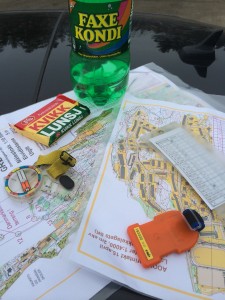 Somehow I think that I actually was lucky that Birken was cancelled as the Sprint-O was a good wake-up wall, for focusing on my navigation skills and get a good flow in the race. I even got a orienteering training in the forest (the first for 2014) in the afternoon (the training the others did in the morning). Again my O-ing technique was not quite there but now i know what to focus on at the European Champs selection trials next w-end on home ground in Northern Zealand.
So nothing is as bad as it not good for something – I'm definitively better prepared for the trials, than I would have been if the Birken wasn't cancelled.