Skåla rett opp – up up and just up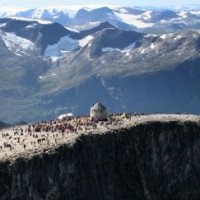 Skåla rett opp is an uphill race covering 8,2k with 1 820m climb which gives and average assent of 22%.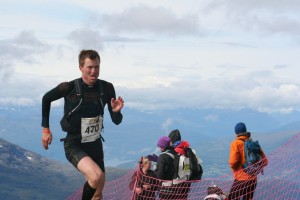 At Scottish 6 days I had a chat with Jon Duncan and somehow we ended up talking about the great mountains in Norway, and Skåla suddenly came into the conversation. The race caught my attention and Jon promised me a pint if I could beat his time of 1:11:07. It turned out to be an awesome time very hard to beat.
As PwC is sponsoring the event, I was lucky to get a start number even though the event as been fully booked for half a year. I entered on Tuesday and figured out that the best preparation would be to do hill intervals. So on Wednesday I did hill intervals up to Grefsenkollen a total climb of around 400m, not much compared to 1,8k climb but the best I could do at this stage. Clocked one of my best time so felt confident.
To Loen / Stryn and hotel Alexandra it was a 6+ hours drive from Oslo, so arrived late Friday evening just in time for the famous dinner buffet.
The race starts a 10:00, but around 1100 competed in the non competitive class which start between 7:00 and 9:00. Hence the race had 1100 spectators!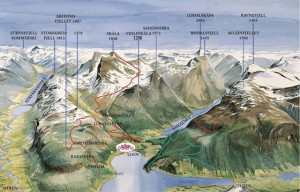 Started out in my own pace with the compulsory 2,5kg backpack filled with choco milk, Faxe kondi and warm gear ( there is approx 10 degrees difference between the start and the finish). The pace meant that I was a 11th position after 500m a position I kept for the next 5k or so. The last 3k the path got rougher and the climb steeper. Started to struggle a bit even though I kept a pace in the beginning where I felt I couldn't go any slower.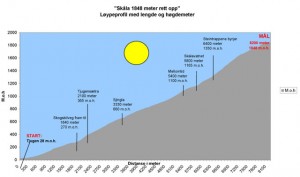 The last 1,5k was tough as and I really had to mobilize all the energy I had left, but I still had to walk the steepest parts (as every one else).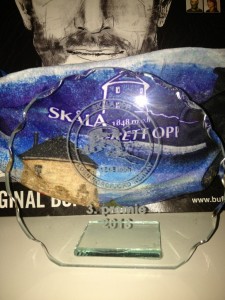 I Got overtaken by 4 runners but managed a good sprint finish and overtook one and ended as 14th overall and 3rd in the class. The finish time was 1:22:31, way behind the time I though I was capable off and 11 min behind the winner, so I was a bit disappointed.
But for my legs still the worst part was to come, the 8,2 k decent. Looking back I probably ran to fast down (around an hour), even after 3 hour in the SPA my legs have been dead for 4 days and I have only been capable of short jogs.
Still I'll be back next year to improve my time the goal is 1:15:00, and with SPA, grill party, banquet and disco as well as a fabulous view is just icing on the cake – I'll be back next year….. Who will join me next year?