Jukola – classic finnish night fight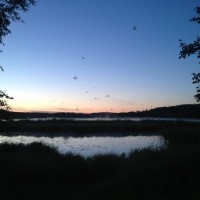 As for Tiomila, the BSK tactic was to go hard from the start – this time with the best man out first, and I had the pleasure running second leg. Carl showed the BSK colors in fine style on the first leg, passing the first two TV controls in front, and lead the pack for most of the 1st leg.
I had prepared myself for getting out in front and Carl did the job and finished with the leading pack, a perfect position for me. I was a little anxious about my shape and achilles after 4 weeks with a cold I just couldn't get rid off and an achilles which have given me grief for a month.
I have taken good care of the achilles with massages and strength exercises the last week. I done a fair bit of alternative training, but tested the wound with two light marsh interval sessions – the achiles didn't bother me to much so Jukola ready I was.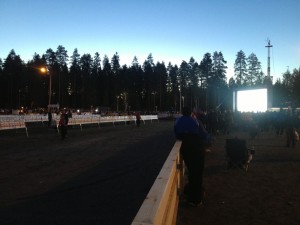 I felt okay on the warm-up, but got a little scared running towards the start point when the achilles felt a bit soar. I'm happy to say this was the worst it felt in the finnish night and it didn't trouble me under the race, so that's great news.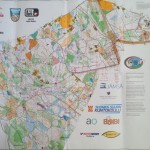 I ran safe to first control and got a good attack point at the open area. Lost a little time at fourth and pushed a little harder to catch up again with the pack and didn't pay enough attention on the compass and got stuck in the marsh loosing valuable time. After this I got a good flow and benefited from running in the pack and could relax a bit. As I exited 17th control there was a small gap to the runners in front and I pushed hard to close the gap, but at the same time I got a little sloppy with the map reading, I focused on the compass and but still ended slightly off target but I realized it as soon as I saw the control at the cliff and didn't loose much time. This was a good wake up call for the rest of the race. Except for small time losses at 21th and 28th the biggest trouble was soar calves in the end, probably due to the little amount of running over the last couple of weeks. Fatigue started to kick in over the last couple of Ks, when the terrain shifted again and the pace increased. I tried to push hard but didn't get the usual response, I'm still not back at pari. A few weeks of good training and hopefully I'm back in business. I have to be pleased with the 7th spot (out of 1600 teams) and I'm looking forward to get back in shape and  to the summer and new adventures…

(Click the photo to see the full results)