Norwegian Sprint Champs 2013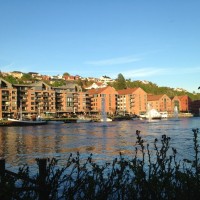 Third time is my lucky time….
I have entered the Norwegian Sprint Champs three time, and how crazy it may sound I have had a cold leading up to the races every single time. 2011 in Arendal I probably shouldn't have raced but made it though from the qualification and did a poor race in the final. 2012 the sprint was in Oslo, but the cold kept under the duna.
2013 Skien – After the Holmenkollen relay I spend a week in Stockholm working and got a cold. Might have been from the waiting between the leg in the HK relay. I had to pass on the Danish Selection races the following week. I felt better and better in the following week and did to easy runs and an easy o-sprint Thursday in Nydalen on a brand new map. Still on on top of things but feeling better and better. Felt even better on Friday so decided to head south in the arvo.
Cached a local from 'Scheen' in the office and got some inside information and town history and not at least guidance for how to pronounce the town name.
Qualification:
Felt quite okay in the morning, fueled up with Faxe Kondi and a race strategy of keeping a good steady pace and focus on the navigation. Felt surprisingly good when races kept a good speed without pushing and didn't do any mistakes – the only worry was heart rate 5 beats or so higher than usual, but anyway I felt confident that the body wasn't far of TipTop. Was 22 sec. behind Emil and finished as second, so even secured myself a good start position in the final.
Results: http://www.obasen.nu/winsplits/online/no/default.asp?page=table&databaseId=25741&categoryId=4
Map: http://runo.dk/wp-content/uploads/2013/05/20130529-222826.jpg
Final: 
Long wait in the quarantine, but felt alright. The plan included more Faxe Kondi and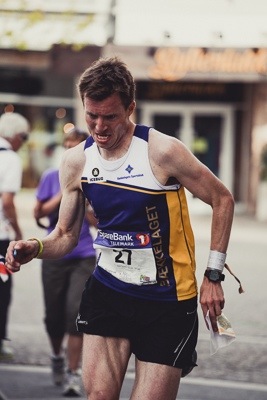 a tactic with high pace and 'easy' route in the beginning to get a good start. Though quite fast felt that the body didn't quite react as normal when I pushed hard – within long I got lactic in legs ans even arms, and with a heart rate 5 beats higher than normal I was racing on the edge and sooner or late the shit hid the fan! I didn't take long as I messed up the exit from 3′rd control and ran of the map, 40 sec lost even managed fall over as well. Pushed hard to 5′th and the speed seems to be okay (second fastest split) but was again running un the edge and jumped over 7′th without noticing. Totally crashed and burned on the last part of the course as the legs just died – I didn't even help that my local born work mate supported me with cheering in local Skien lingo. Hopefully my crash and burn race didn't scare didn't scare him of….
Results: http://www.obasen.nu/winsplits/online/no/default.asp?page=table&databaseId=25756&categoryId=1
GPS tracking final: http://www.tulospalvelu.fi/gps/20130525NMsprintH21/

Nordic Tour – Two World Cup races in Oslo:
Next chance to get orienteering up the sleeves with Big schreen, GPS tracking and the lot is next w-end at the first round of the Nordic Orienteering Tour in Groruddalen in Oslo. I have to be pleased that the National coach decided to give me a chance to run these World Cup races event though I have to forefit the Danish Selection trials. This means that I'm still in place for the open spots for the Danish Team at the World Champs in Finland in July.
So are you around Oslo this W-end come around Lillomarka and enjoy the great orienteering party! Hopefully my bad performance haven't scared all the supporteres away, I'm close to TipTop and ready to rumble in the jungle :-)
http://folkefest.lillomarka.no/vc/?avd=verdenscup