Bergen Sprint Cup 2013
Camp Norway arranged a sprint w-end in Bergen with 6 races/trainings with the National team – an opportunity there were hard to say no to, as I never have been in Bergen and 6 quality o-trainings in February is hard to decline. Further speeches by Emil Wingstedt and analysis by Jan Kocbach made this trip very appealing.
The trainings / races included, night sprint, classic o-sprints and o-intervals as well as knock out sprint to conclude the sprint camp.
Due to icy conditions the Dane ran safe and with spikes on the asphalt and cobberstones witch was tough for the legs. Even though I managed to be within the last 12 which have to fight for the victory via two knock out sprint races.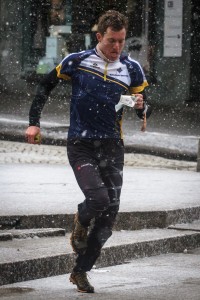 I discarded the spike shoes and the safe running, and managed to secure the victory with a different route choice than the rest in the final.
I can recommend to take a look at the organizers homepage for maps and results and especially the 'live' action from runners wearing headcams.
http://sprint-camp.blogspot.no/2009/02/resultater.html
I don't regret that I prioritized this sprint camp, it was well organized and with a lot good input for the sprint coming up this season.