No stress…No worries
Norway Cup April 2013
The O-season opening in Norway for my part, sprint-O in Askim (Norway Cup and WRE). I have rested a few days after the Danish Ultralong Champs.
Fueled up with Faxe kondi I therefore felt okay prepared even though I had no idea what the sprint area would look like… No worries, no stress.
Stressed:
Though I should eventually be a little stressed as the one hour drive to Askim ended up taking two hours and 15 minutes due to a traffic accident on the way. In the end the GPS told me that I would arrive in Askim 3 min before my allocated start time. Lucky me I changed to running gear at home, and just had to put on the runners - the only small problem was that the sign posting to the event was non existing.
I parked the car when I spotted a chick in o-gear with a bag looking like she was on the way to the arena. I followed the Snitzling for 1 min and lucky me I was at the start, 1 min before my named was called, I just managed to get the number bib and Emit tag before the go signal.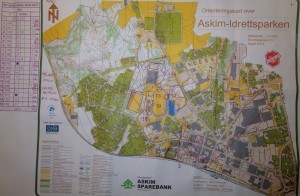 It felt a little tough in the beginning going straight from zero to full throttle. I did a mistake exiting first control as I didn't see the closed gate on the map and had to go back. Another small mistake occured at 6th as I searched to early. On the long leg to 8th I was sure I was on a bad routechoice and that there would be a trap… It was too simple.
My biggest time loss was at 16th as I didn't see the track leaving 15th and with a bad bearing I got a little detour.
Have to be happy with the result under the circumstances, always handy to know you can handle stress alright! No worries.
Results, splits and GPS tracking
Worries:
When I woke up Saturday morning I noticed that the Achilles were soar. I prepared my self for the Middle distance as usual, with choco müsli and Faxe kondi. But at the warm up the Achilles didn't get much better and I decided to transform the race to a scenic jog in the forrest and focus on getting some valuable forrest map training in the nice terrain.
No worries – the training was substituted with a bike ride to Kikut in the late afternoon.