Footy Grandfinal, kangaroos and AUS sprint champs in Tasmania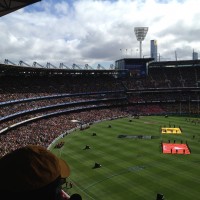 It's not everyday you get an invite to an AFL Grandfinal from a mate Downunder, so ofcourse I couldn't decline :-)
Three days later I was sitting on a plane bound for Melbourne. As a bonus I discovered that the Australian orienteering sprint championships were to take place in Tassie Friday the same week.
As usual there is always fantastic service by the locals, with pick up in the airport, dinner, training partner, accommodation and not at least a great company.
After an easy Thursday downtown Melbourne, I had a tight schedule Friday.
Early start with flight to Launceston (Tasmania) and with a scheduled driving time of 2 hours to Bicheno, I had 30 minutes to spare before my start. With a 10 minutes delay and heavy rainfall the pressure was one. I made to the startline in time and before me was a challenging sprint with many controls along the coastline. I took it easy on the slippery rock surface  and without any major mistakes it was good enough for the gold. Tragric or not to   travel around the globe to convert the stack of silver medals to a gold!
Squeezed in a scenic 11k run around Freycinet nationalpark with the Magnificent Wineglassbay and small wallabies as the top attraction.
That was not then end of orienteering for the day as I got an opportunity to prerun the AUS champs long distance held on Saturday. So after another drive I was in St. Hellens and ready for another great run in Tassie. As darkness caught up with me I only did half of the course, before a 2 hour scenic drive through the mountain pass back to Launceston. Was back in bed around 
2am
 after a long but fantastic memorable day in Tasmania, not even the 2 hour delay on the plane trip back to Melbourne could spoil that. (Apparently was delayed because it rained that much in Launceston that they had to put new tires on the plane!)
Saturday, game on – after dressed up in Hawks gear we wantered down to the waterfront in Port Melbourne for a breaky pancake feast. It turned out that Port is still Swan's territory and we were the minority. Even tough the bellowed Hawks lost the Grandfinal with a small margin it was a ripper game, five hot choco's made the day even better, and another good experience to put in the bag before the 25 hour flight back home to Oslo.
All there is to say is – take the chance get out there – enjoy and discover when you get the opportunity. It worth all the money :-)