Danish Middle distance Champs – Gødding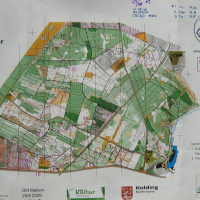 It has been a much longer summer than anticipated. After the set back of not being selected to the primary goal in 2009 WOC in Hungary, I lost the motivation and have trained about half as much as planned. It is always difficult to persuade yourself to train, when the national coach and selectors eliminates you with any proper reasoning or explanation and you have performed well in competitions in relevant terrain (Hungary) and on the distances you have nominated for. It's even harder when the guys selected haven't showed form or strength in relevant terrain and on the distances they are selected for.
I knew that I probably still had the speed due to good form in June and a good basic training through the spring. I therefore expected to be able to fight for the medals even though the WOC team should be peaking around now.
I started out with focus on the navigation and a plan about pushing the pace where possible without gambling with the navigation. The legs were feeling heavy but still I felt that I shoot a good speed so I felt comfortable.
Made two significant errors, the first on the way to 6′th where I lost the direction in the green and still think I'm on target when I hid the track but realise the mistake when I'm standing with both feet firmly in the marsh, and my memory tells me that the instructions stated that there shouldn't be any marshes on the map! MERDE 1 min long gone! back on track, but I'm a little wobbly on 8′th and 9′th and loose around 10 sec's on both. The other significant mistake which take me out of the equation containing the medals is on the way to 13′th. I get pushed to much to the east by the green and do a parallel error and search in the wrong spot and another 45 sec's just vaporised into the blue.
Did okay on the last loop, except for the route choices to 20, 21 and 22 which meant that even the silver was long gone.
Have to be happy with my physical fitness, only Rene Rokkjær ran faster in the forest than me, but have to admit that the lack of orienteering over the last 1½ month made my navigation too rusty, and therefore I had to settle with 6′th place.