Australia and Malaysia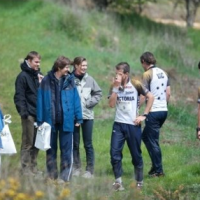 Duration:  23/9-9/10 – 2009
I was lucky to be able to fit in a good holiday around the autumn break, so why not going Downunder for some great orienteering experiences and get a chance to catch up with some mates.
For minimizing the jetlag I had 1½ day in KL on the way. Great place – you can hire a driver for a couple of hours sightseeing for DKK 200, live in a 5 start hotel at a low cost and enjoy a late evening run in 30 degrees on a 1,1 k athletics track in a park located in the city centre (KLCC park). And with this view from the Hotel Room I don't complain.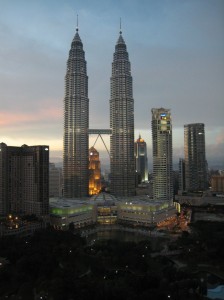 Australia was a different story – the first week can be described as 10 degrees and rainy. I did 5 orienteering races (Australian Championships in Sprint, Middle, Long and Relay and the Victorian Long distance champs) and it was raining for all of them, bugger!
But it was a great orienteering experience especially the AUS middle and long champs. Unfortunately I once again was hunted by a cold after spending the first two days outside in the cold rain and with a jetlag in my backpack.
To be able to lift my self next year it is essential that I'm able to cut down on my sick days, the plan is to train more wise. I have taken the first step by engaging a new coach.
Maps and results:
04-10-09 | Australian Relay Champs Mt Killawarra (VIC – AUS) | Anoter run in the great area from yesterday | Map
03-10-09 | Australian Long Champs Northern Spurs (VIC – AUS) | The health didn't get worse after the Sprint race, so back on the horse, the terrain should be a ripper so I didn't want to miss it.
Knew that the fitness probably wouldn't be super today therefore the plan was to get a good experience. After getting into the race the legs were actually feeling okay on the flat, though still didn't have power to run up the steep hills.
Took some conservative route choices just to get better attack point for the tricky controls and did well until 6th were I lost the map contact and wasn't sure where I exactly crossed the gully just before the control and hesitated going into the control. Did a small hook going into 9th – drifting too much to the right which was the same case at # 10. A bigger time loss at 12 when I stopped to early, couldn't believe that the tiny gully on the may was so big in real life. My plan was to go around via the track to the right to 14th but when I crossed the road it looked like it just continued up-hill so my tired hill legs decided that I could go straight, which actually was by far the best route.
On the long leg to 16th I couldn't get my self to go straight, even though I lost more than a minute going around on the VIC long champs. I decided to go around left even though I was sure that I would loose time by doing that. but but but?. it actually turned out to be a good route choice as I only lost 18 sec to fastest split (17:49).
Funny enough my biggest mistake was on one of the easiest controls (#18) when I drifted to low and went all the way around the hill and lost 1½ minute. Finished 3rd overall – much better than I expected when I started and with the cold from last Sunday in the backpack I can only be happy with that | Result and Map
02-10-09 | Australian Sprint Champs Benalla (VIC – AUS) | A very easy sprint around the river in Benella. Tried to go hard from the start, but had a hard time getting the legs turning, and felt I was going way to slow. The cold from last w-end still got me.
The course was pure running and due to a late start there were Fwy's in the no anymore so high grass. Made one stupid route choice when I red the Clue sheet 'upside down' and ended on the wrong side of a metal fence, where I could here the control calling from the other side. I was set-back 25 sec and lost a 5 sec lead which was converted to a 6 place | Result and Map
27-09-09 | Victorian Long Distance Champs Choke'em Gully (VIC – AUS) | Was focused on keeping focus at the navigation, and started out conservatively. Hit the controls in the beginning well and it was easy to keep a good pace as it wasn't so rocky and hilly. Had five of the best splits on the 6 first controls – ran a little to safe to 4′th but still ended too high. Thought I did a ripper route choice to the 7′th control (going round left over the paddock and then easy path running) but lost 1½ mns to Shep (30 sec in the circle).
Started feeling very confident with the 'easy' spur gully thing…. So lost the edge and full concentration and the shit hid the fan ½ way to 11′th. Decided to take the small path right to the line and ran without checking the map much. Crossed a watercourse and thought it was the one just west of the control but was the one 4-5 cm WWS of the control. checked the compass and saw that I was 90 degrees out. From then I lost the map contact and 'found' it again a couple of times but it was never right. Was sure my legs had taken me too far and suddenly I could see the Asphalt road and railway SHIT! Suddenly the legs felt very heavy and I never found the rhythm again. My brain told me that I lost maybe 5-6 mns. But as I caught Ruben (Who I also caught on 3rd control) going toward 14th I realised the time loss prob. was a little bigger. But lost more than 13 mns to Shep on the leg.. hard to believe! Must be my biggest time loss for a couple of years… maybe since Eppalock… | Result and Map
26-09-09 | Australian Middle distance Champs Chewton Diggins (VIC – AUS) | Just of the plane, but felt okay. What a nice area for orienteering. with 28 controls on 6.3k it had to be technical and it was. Might not have been that concentrated at the start as I had to talk to friends and club mates I haven't seen for over a year in all the start boxes. Started out making a one min mistake at first control. After that I settled into the course well and expect for a few small mistakes and bad route to 13th I can be happy with the race. Ended 2nd just 11 sec behind Simon Uphill – what a shame | Result and Map